2011 scholarship recipients announced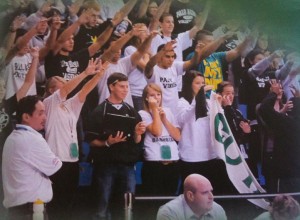 Congratulations to George Brown of Palo Alto High School, the California High School Journalist of the Year. Brown is co-editor-in-chief of Viking sports magazine (Ellen Austin, adviser) and the official state winner for the national Journalist of the Year competition from the Journalism Education Association.
The JEANC scholarship committee met Feb. 26, 2011 at San Francisco State University to evaluate student portfolios and select scholarship recipients.
Please join JEANC in honoring all three of this year's Arnetta Garcin Memorial Scholarship winners:
First Place: George Brown, Palo Alto High School (Ellen Austin, adviser)
Second Place: Alison Sale, Granite Bay High School (Karl Grubaugh, adviser)
Third Place: Ben Breuner, Redwood High School (Tom Sivertsen, adviser)
Each of this year's applicants in the JOY competition demonstrated excellence in journalism. Portfolios were professional quality and included outstanding examples of writing, leadership and courage. The scholarship committee was impressed by the thorough research, eye-catching design, reader-relevant stories and each candidate's personal commitment to serving their readers. These students truly exemplify outstanding high school journalism.
Winners demonstrated thoughtful reflection on each journalistic experience and had a wide range of journalistic activities within and beyond the school's student media. Brown's portfolio showcased in-depth reporting and important stories, but also included experiences with live blogging and timely, professional use of Twitter and Facebook to report breaking news, in addition to dealing with online comments, video editing and more. His outstanding practice with the mobile, multidimensional responsibilities of reporting demonstrate not just what good journalism has been but what good journalism is becoming.
JEA's national Journalist of the Year results will be announced April 17, 2011 in Anaheim at the JEA/NSPA Spring National High School Journalism Convention.