NorCal Media Day: FAQs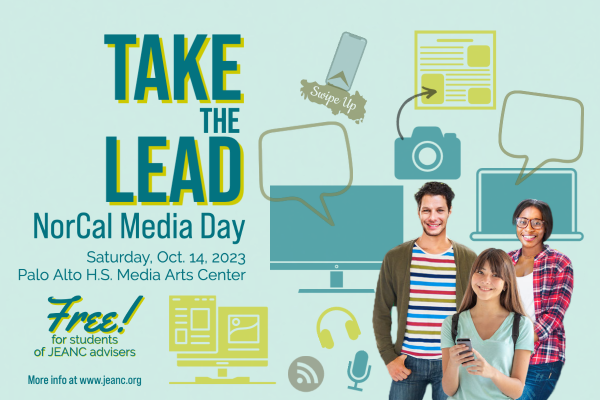 Who can attend?
JEANC member advisers, their chaperones and students are welcome to attend without cost. Advisers who are not yet members must either join online before the conference or pay for membership or a renewal on-site.
How many students may one adviser bring?
Member advisers may bring as many students as they'd like. We simply ask that you have a reasonable number of chaperones, using your professional judgement, for your number of students. Please register for the event in advance so we have an accurate count for lunch.
Can students attend without an adviser?
As long as their adviser is a member, students may attend with another school-approved chaperone. A school-approved adult must be onsite while students are on-campus for NorCal Media Day.
What's the schedule for the day?
There will be four breakout sessions and a featured speaker at 9:30 or at lunch time — or both. (More details to come!) Here's the tentative itinerary:
9:00 a.m. — Registration/Visit with vendors
9:30 a.m. — Intro/Featured speaker
10 a.m. — Session 1
10:55 a.m. — Session 2
11:40 a.m. — Free pizza lunch
12:25 p.m. — Session 3
1:20 p.m. — Session 4
2:15 p.m. — Thanks for coming.
More details will be provided closer to the event.
What about lunch?
As a benefit of membership, a pizza lunch and water will be provided by JEANC for everyone in attendance. Sorry, we can not accommodate special diets, although we will have some vegetarian (not vegan) options.
Are there contests?

We have moved all of our contests to the end of the year in order to focus on learning new skills in preparation for producing exemplary work that can be entered in April.
Can we get a critique?
Yes, we provide an informal critique (or a discussion with your about how you might improve your publication) with your entire staff or just a few members from an experienced adviser, many of whose students have produced award-winning publications. Register here for a chat or critique, and we'll schedule you in on a first-come basis. You'll receive your time slot when you check-in at NorCal Media Day.
Are there sessions offered for advisers? Can advisers lead sessions for other advisers or students?
There will be some adviser-specific sessions, including a UC approval workshop, a JEANC member meet and greet, and several topical sessions. We would love for member advisers to volunteer to teach sessions. To do so, simply complete our online proposal form.