2017 NorCal Media Day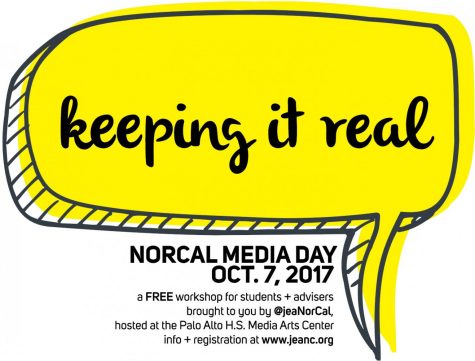 Join JEANC for a day of learning at NorCal Media Day: Oct. 7, 2017

NorCal Media Day—which is free for all JEANC member advisers and their students— includes three 45-minute sessions starting at 10 a.m., and a keynote speaker for lunch (also sponsored by JEANC).  Check-in for the event starts at 9 a.m. at Paly's inspirational Media Arts Center. The day concludes with optional on-site contests from 2:15-3:15 p.m.
More info below—including FAQs, how to propose a session, and contest registration! Attending advisers will also have a chance to win a free JEANC-paid registration to the national convention in San Francisco in April.  We would love to see you at NorCal Media Day!
DETAILS
Conference FAQs: Check here to see if your question has already been answered.
Session Proposals: Let us know if you or your students would like to present a session.
Registration: Register for the day at Eventbrite.
On-site Contest: Review the list of on-site contests offered, then complete contest registration.
Best of the West: Enter using the contest registration form.
Check out this year's list of sessions.