JEANC Adviser Spotlight: Kaitlin Weidkamp, Lykos yearbook
Kaitlin Weidkamp advises Lykos, the yearbook at Woodcreek High School in Roseville, CA.
JEANC: How long have you been advising?
Kaitlin: Beginning my fifth year. I am originally from the Roseville area and relocated back here after going to college in SoCal and working in the entertainment/advertising industry.
JEANC: What's the best part of your advising day?
Kaitlin: The best part of my advising day is seeing my staff waiting outside of our classroom. I love seeing them happy and excited to go into yearbook and talking/playing with one another before they enter. Seeing the positive culture even when I am not around makes my day every day.
JEANC: What's great about your publication kids?
Kaitlin: My staff are amazing at supporting one another. We work hard but also have created a culture that remembers to take time to play and have fun. They are wonderful because they put up with my obsession with Harry Potter and horrible puns. My staff are wonderful because they are always seeking to improve and take advice and recommendations from other sources and implement it into the production of our publication.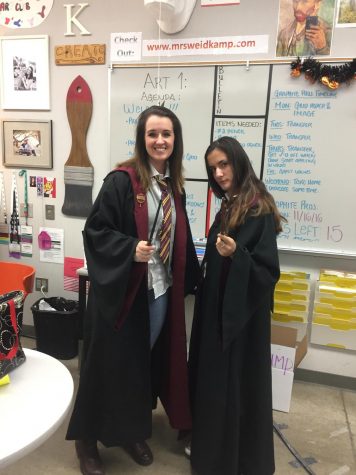 JEANC: What's your favorite part of being an adviser?
Kaitlin: I love the relationship that I get to have with my staff and the fact that being an adviser allows me to be a part of their lives every day for multiple years during such an important time of their lives. I love the moment they see and hold their yearbook for the first time. The moment they touch all their hard work and dedication. I love the crazy memories that we make and hearing them talk about those fun experiences throughout the year. I love the tears we all shed in May at graduation and the smiles I get when we reunite in August. Most of all, I love having a family on campus and knowing our room is somewhere special for them to be and grow in.
JEANC: Why are you a JEANC member?
Kaitlin: When I took on the role of adviser I had no clue what I was getting myself in to and was very overwhelmed with this new role. JEANC was a great network of so many wonderful advisers and publications who were there to help me and support me. In addition, through JEANC my staff are able to go to conferences and competitions to network and improve their knowledge. By being a member I am able to expand my PLC to not just my district but all of Northern California.
JEANC: What do you like to do for fun?
Kaitlin: I love to travel, paint and spend time with my family. This past June we welcomed our first child, so most of my time is dedicated to him.
JEANC: What's your favorite journalism movie?
Kaitlin: For a serious movie I loved "Spotlight," a movie for fun and laughter I love "Anchorman."
JEANC: What's the last book you read [before answering these questions]?
Kaitlin: I have been reading a lot of parenting books as of late. A book that will impact my classroom as well as my parenting style was "Simplicity Parenting." Another book that I have enjoyed recently would be "To Pixar and Beyond," my husband and I are Pixar and Apple junkies, so we found this very interesting and entertaining.