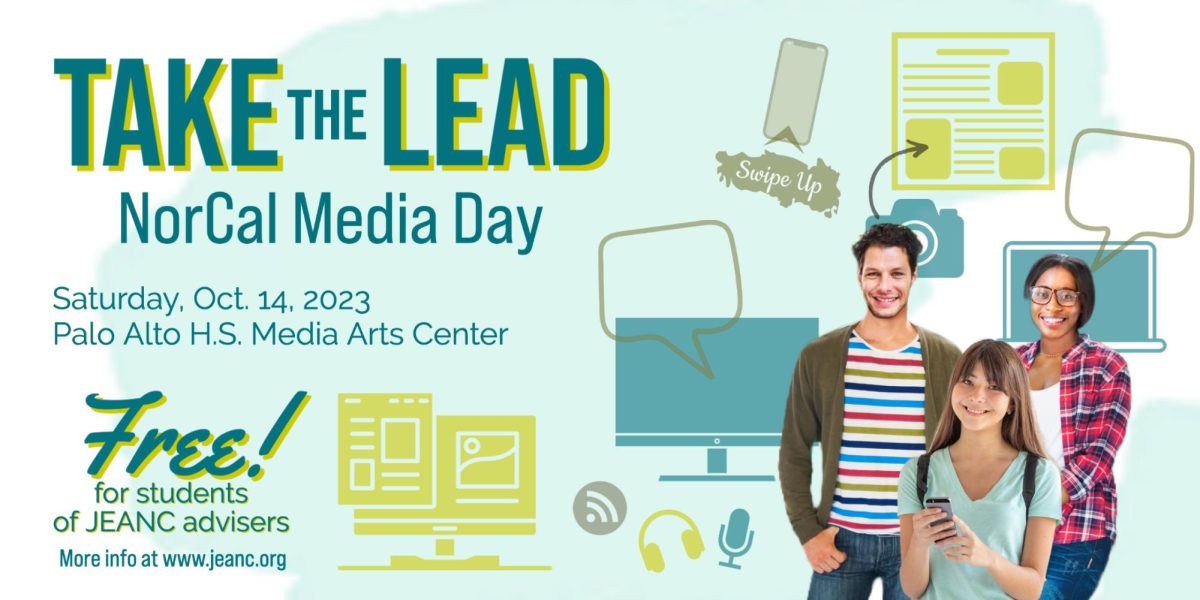 Join us at our annual NorCal Media Day on Saturday, Oct. 14, at Palo Alto High School, sponsored by the Journalism Education Association of Northern California and featuring some of the leaders in scholastic journalism as presenters.
This event — which is free for all JEANC member advisers and their students — is your one-stop shop for upping your journalism game, whether or not you plan on attending the  NSPA/JEA national conventions in Boston in November 2023 or in Kansas City, Missouri in April 2024.
Our program includes:
four sets of 45-minute sessions starting at 10 a.m. and ending at 2:15 p.m.
a choice from 15 sessions each hour on everything from how to write a feature story to how to sell an ad to how to design an award-winning visual story as well as ethics and student press rights.
award-winning advisers, students and experts who can help you and your magazine, yearbook, broadcast, web, social media, podcast or newspaper staffs improve for the 2023-2024 school year.
And a pizza lunch is on us! (Note: We cannot guarantee dietary restrictions, so individuals should plan accordingly. Town & Country Village across the street may be able to provide more lunch options.)
Check-in for the event starts at 9 a.m. at Paly's Media Arts Center. A large group introduction will begin promptly at 9:30 a.m.
We've moved our popular JEANC contests to the spring and decided to focus our energies on publication critiques — so bring copies of your latest publication, and then sign up in advance for an informal chat or critique with an expert.
See more info below. We would love to see you at NorCal Media Day.
DETAILS
Conference FAQs: Check here to see if your question has already been answered.
COVID-19 health protocols: We will be following local health officials guidance at the time of the event regarding masking and other Covid-19 safety protocols. Please keep an eye out for updates from JEANC as needed. Participants are asked to remain home if exhibiting any Covid-19 symptoms.
Session Proposals: If you or your students would like to present a session, please fill out this form.
Speaker Bios: Read about our esteemed speakers on this developing speaker bio list. Impressive group! Note: This is also a great place to get an early look at what sessions will be offered, although it doesn't contain time or place data yet.
Admission is free to JEANC members and their students. Students must attend with their adviser or a school-authorized adult.
JEANC Membership: Click here to learn more about JEANC membership and to join or renew your membership.
Registration: Click here to register! (Note that there is also a separate attendees form attached to the registration form that will ask for the names of each student and adult attending NorCal Media Day and an emergency telephone number for each person (parent, guardian, spouse or other responsible adult) to call in case of emergency if we are unable to locate the adviser/chaperone. Check out the attendee form for more details.
Sign up here for a constructive critique from a veteran adviser to help grow your publication!
Directions to Palo Alto High School: Paly — which is what locals call the school — sits at the corner of Embarcadero Road and El Camino Real in Palo Alto, directly across the street from Stanford University and also from the Town & Country Village Shopping Center. The school's Media Arts Center is at the northeast corner of the campus, next to the train tracks (and across the street from Trader Joe's. You can see it on the school's campus map, in the upper left-hand corner. Many NMD visitors will arrive by Caltrain, getting off at the Palo Alto University Avenue station and walking a quarter mile south along the tracks to reach the school.
Register here for this free skill-building day.