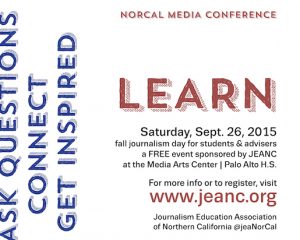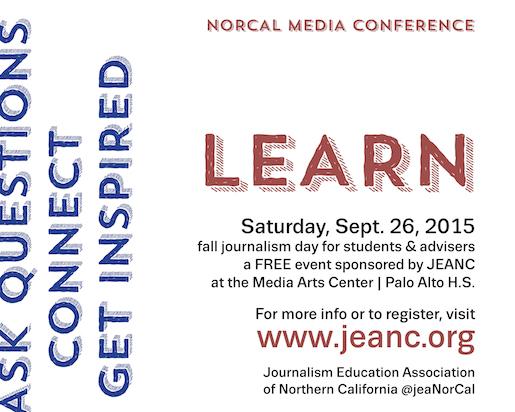 Join JEANC for a full day of learning at the NorCal Media Conference.
Saturday, Sept. 26, 2015
FREE for JEANC member advisers and their students
at the Media Arts Center, Palo Alto HS
Registration 9:30 a.m., sessions 10 a.m. – 2 p.m.
Optional on-site contests 2:15-3:15 p.m.
For advisers: Learn how to gain UC approval, earn national CJE or MJE certification
---
DETAILS
Conference FAQs: Check here to see if your question has already been answered.
Session Proposals: Let us know if you'd like to present a session.
Tentative Sessions: Check the lineup and share with interested students.
On-site Contest: Review the list of on-site contests offered, then complete contest registration.
Best of the West: Enter using the contest registration form.
---
Let us know you're coming! Please use the link below to register your group. To send an update to your numbers after registering, please email [email protected].