More than 350 student journalists from the Northern California region came together on Sept. 26 for the NorCal Media Conference, an event hosted by JEANC at the Palo Alto High School Media Arts Center. In the group, 38 schools, including two middle schools, represented 12 yearbooks, 25 newspapers, 13 news websites, and 7 news magazines.
A few came to learn more in hopes of beginning a journalistic publication at their schools. They came from Bakersfield, Los Banos, the Silicon Valley, the East Bay, Sebastopol, Hayward, and the Sacramento region.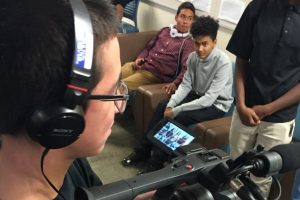 The event featured 48 sessions led by students, advisers, industry representatives, and professional journalists. At lunch, film director and professor Meg Mortiz of the University of Colorado, Boulder screened the documentary "Taking the Lede," and followed with a question and answer session for viewers. At the end of the day, 100 students participated in on-site contests, and 38 individual students earned awards.
"Seeing so many new advisers and student journalists coming together and learning side by side was incredibly rewarding," JEANC president Rachel West said. "JEANC's mission of encouraging journalism education was achieved here today, and will be taken back to classrooms all over Northern California."
This was the second year the conference was held at Palo Alto High School, and the Board anticipates it will be offered around the same time and in largely the same structure again in 2016. Admission and a pizza lunch were free for all JEANC member advisers and their students.